Bel Alton Motel,
All the Comforts of Home!
The Bel Alton Motel is an American family owned local motel in the rural town of Bel Alton, Maryland on Crain Highway, Route 301 that for 50 plus years has been serving travelers, ball teams, construction contractors, business people, Charles County fair participants, Budds Creek Race fans and entrants, fishermen and more in the Southern Suburban MD area.
We can offer renting or leasing short or long term: business office space and storage lot for our business contractor extended stay clients.
American Owned & Operated
We Offer Nice Clean Rooms At Affordable Prices. Call Us with your Reservation.
Our Guest Amenities Include:
Wireless High Speed Internet Access
Corporate Contractor Extended Stays with office space & storage lot available
Early check in available
Sony LCD 40" Screen Televisions
Direct Dial Telephones
Room Controlled Heat
Room Controlled Air Conditioning
Microwaves and Refrigerators in all rooms
Double Beds
24 Hour Automatic Wake-up Service
Fax Service
Pets Welcome
Free Coffee Available 7am
Large Outdoor Swimming Pool
Picnic Tables with Charcoal Grills
Spacious, Gated & Secured Parking for Boats & Trailers of all kinds
We are Members of:
Maryland Hotel and Motel Association
Charles County Chamber of Commerce
National Federation of Independent Businesses
U.S. Chamber of Commerce
We are Near the Following Restaurants and Attractions:
Budds Creek Motocross Park
Laurel Springs Regional Park in La Plata, MD
Maryland International Raceway
Charles County Maryland Fair Grounds
Dahlgren Naval Base
Demolition Derby at Potomac Speedway
St. Ignatius Catholic Church
Captain John's Crab House in Cobb Island
Captain Billy's Crab House
Johnny Boy Ribs
Texas Ribs (Twin Kiss)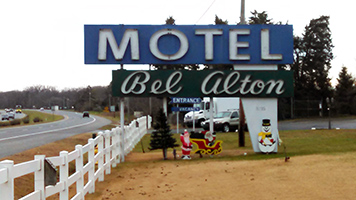 We are a Fisherman's Dream Lodge
Close to the Potomac River
We Are Convenient for Fishermen & Anglers Entering the Following Nearby Tournaments:
Bassmaster Top 150 Tournament (Smallwood State Park in Charles County, Maryland)

Capitol Clash (Potomac River Charles County, MD)

FLW Series Tournament
Small Angler Club Tournaments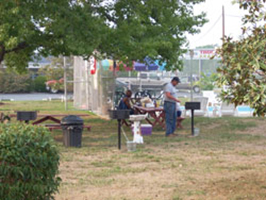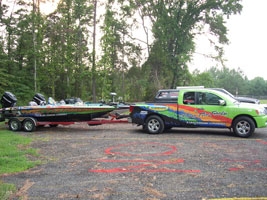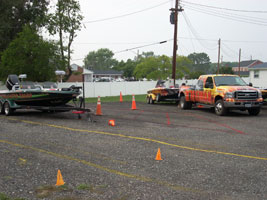 ---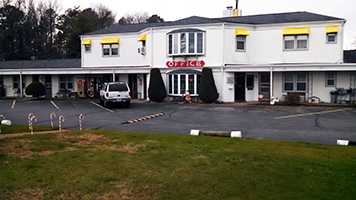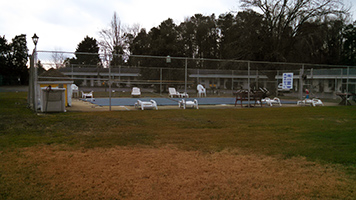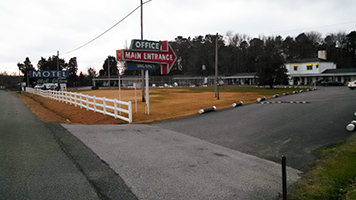 What Our Customers Say About Us:
"This is a very nice place to stay and I love the people there and it's very clean and I love to go swimming."
- Betty
"This motel was very clean. I thoroughly enjoyed my stay. The room literally looks like nothing has changed since the 1970s or even earlier!. Colors, heater and everything still resemble something you'd see out of that decade. Was very clean though. The 'lobby' was filled with plants and cats along with a couple other small animals, it was interesting and kind of neat, though. The outside is well presented with nice garden and flowers. Big pool. I am here for business, and being away from home definitely makes me lonely. The room was just like home. Definitely recommend to anyone."
- Denice, W. Chesterfield NH
"The Bel Alton was a nice quiet place and very clean throughout the rooms. They had everything we needed for our quick overnight stay. The people at the desk were very friendly and helpful..."
- CC
"Enjoyed our stay: The Bel Alton Motel is a bit of a throwback to the 50's, right out of "Happy Days," and a great place for an animal lover or traveler with a pet. The rooms may be small but they are clean and neat, and have a fridge and microwave. The owner and staff are super friendly and helpful! Great value for the price. I'd be rating it Very Good really. I will be back when I am in the area."
- Sheila D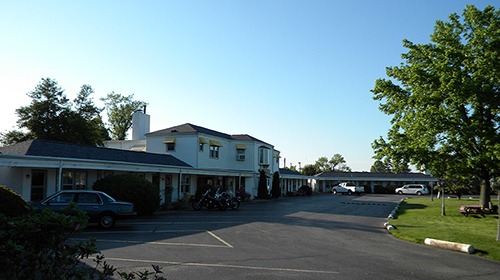 Bel Alton Motel, an Inn near La Plata, Waldorf, Budds Creek, Charles and St. Mary's County MD Located in Bel Alton Maryland in Southern Maryland Hotel or Motel near Maryland International Raceway Hotel or Motel near Laurel Springs Regional Park (LSRP) La Plata Hotel or Motel near Harry W Nice Potomac River Bridge Hotel or Motel near Budds Creek Raceway Hotel or Motel near Charles County Maryland Fair Grounds Hotel or Motel near Dahlgren Naval Base Hotel or Motel near Smallwood State Park in Charles County, Maryland Hotel or Motel near Potomac Speedway, Hotel or Motel near Budds Creek Motocross Park, Hotel or Motel near National Truck and Tractor Pull at Charles County Fairgrounds
CWR0723